The 4th Recognition Ceremony of the Government Quality Management Program (GQMP) distinguished ISO 9001-certified government organizations on November 10, 2016 at Land Bank of the Philippines Auditorium, Malate, Manila.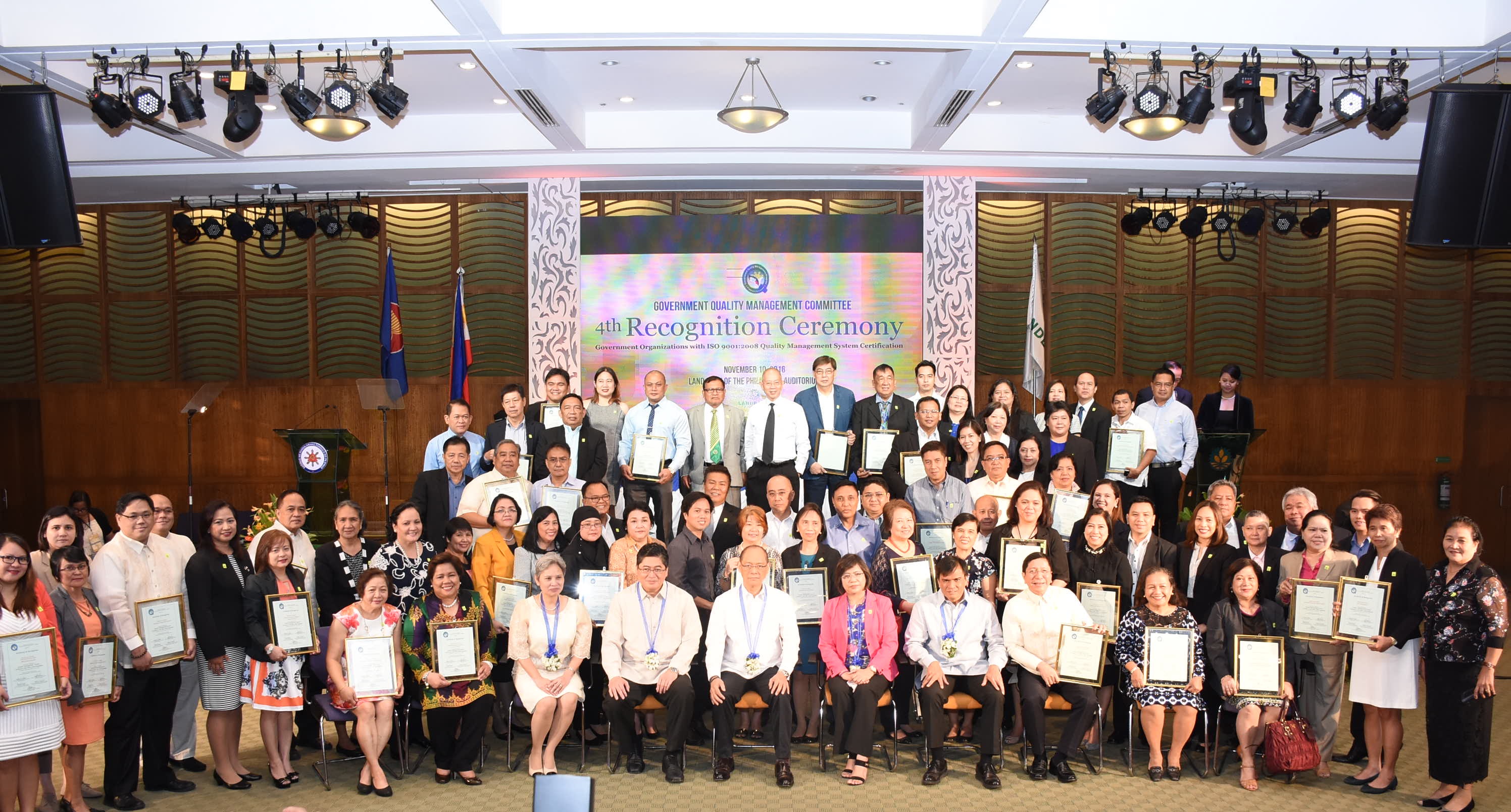 Awardees with the GQMC officials during the photo opportunity.
In the event, 99 national line agencies including regional offices, attached agencies, and Department of Health (DOH) hospitals; eight executive offices; a constitutional office; 31 government-owned and controlled corporations and financial institutions; six water districts; 14 local government units; and 21 state universities and colleges were recognized for attaining IS0 9001 QMS certifications. Specifically, these agencies got certified for the period of January 2012 to October 2016. A total of 364 attendees were present in the event.
Vice President Leni Robredo as the Guest of Honor during the ceremony said in her inspirational message that this achievement will concretize the Philippines' position in Asia and the Pacific as Center of Excellence on Public Sector Productivity. Thus, the country is now reaping the hard work thrusted by some government organizations as its ranking in the World Economic Forum's Global Competitiveness Index for 2015-2016 enjoys significant improvement. She added that the opportunity to transform the lives of the Filipino people through efficient, effective, and inspired government is more rewarding than any recognition.
The Department of Budget and Management (DBM) Secretary Benjamin Diokno, as Chairman of the Government Quality Management Committee (GQMC), also gave high appreciation to the awardees in his opening remarks. He commended the strong commitment of the agencies' key officers and staff for the challenging journey they went through to improve delivery of quality products and services to the public. Secretary Diokno emphasized that the problems usually encountered in government offices in terms of quality services are now easier to address if system failures are recognized and appropriate actions or reforms are developed through improved processes and standards.
Secretary Diokno was joined by other GQMC officials in the awarding of recognition certificates to the attendees. Also present were Ms. Magdalena Mendoza (Vice President, Development Academy of the Philippines), Deputy Executive Secretary Alberto Bernardo (Office of the President–Internal Audit Office), Assistant Secretary Ester Aldana (Department of the Interior and Local Government), and Assistant Secretary Ireneo Vizmonte (Department of Trade and Industry).
Representatives from the Philippine International Trading Corporation receive their award from the GQMC officials. From left to right: Ms. Mendoza (DAP), Deputy Executive Secretary Bernardo (OP-IAO), Secretary Diokno (DBM), Assistant Secretary Aldana (DILG), and Assistant Secretary Vizmonte (DTI).
Moreover, the GQMC Secretariat, as the implementing arm of the GQMP, ensures that policies and projects are conducted according to the program's goal which is to enhance government performance through streamlining frontline services and capacitating individuals from public sector organizations. The team is composed of the DBM-Systems and Productivity Improvement Bureau (SPIB) and DAP-Productivity and Development Center (PDC).
Officials and staff of the Development Academy of the Philippines and the Department of Budget and Management.